Actual Quotes from Our Patients Here at The Fountain Acupuncture and Herbal Medicine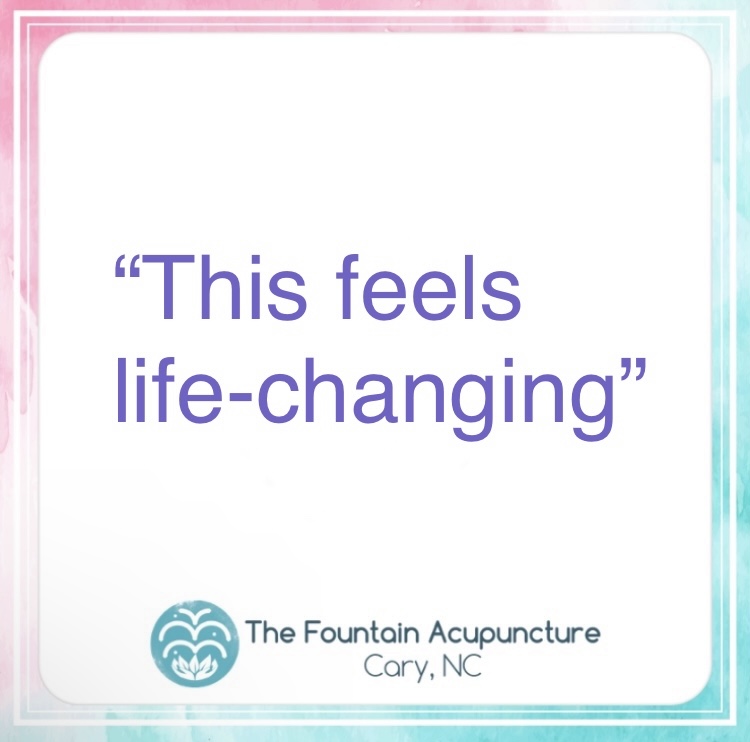 ---
MIGRAINE RELIEF DATA FROM PATIENT
Our patient describes how acupuncture drastically reduced her migraines. The full video testimonial can be found here: https://youtu.be/iwDXpil6R0g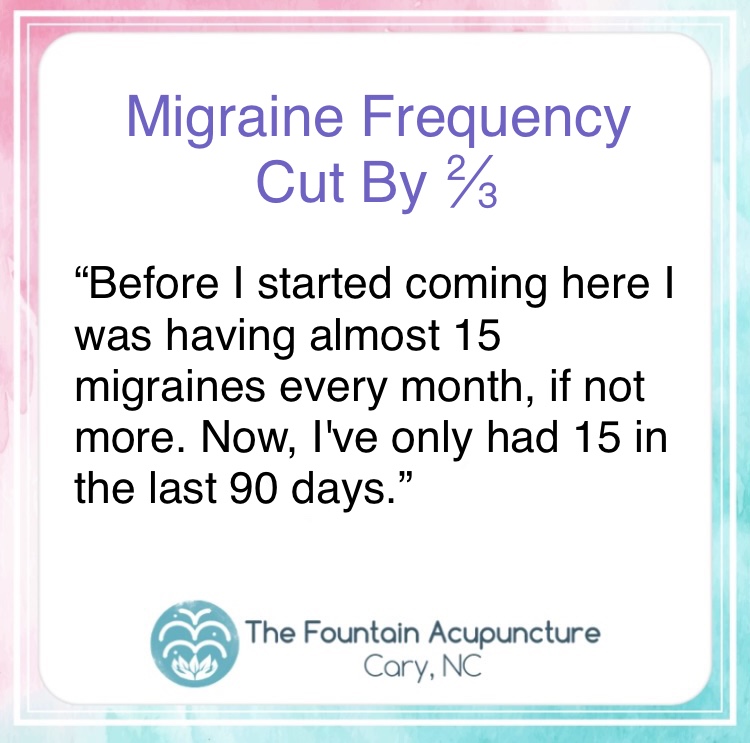 ---
It is a privilege to be able to witness the power and ability of the body to heal. Please read the following quotes from our patients about their experience with acupuncture here at The Fountain Acupuncture and Herbal Medicine:
"Acupuncture has been so impactful on my life and in being able to function in so many different ways."
"You suffer for so long that you think that's the way it's always going to be. So, this has been amazing."
"I'm not living in being anxious all the time, and it's a huge relief."
"This feels life-changing."
"It feels so incredible."
"I'd say there is an enormous improvement."
"I didn't expect this to happen this quickly, only two sessions. I'm pretty excited about that."
"Oh, my God, there is a night and day difference! Acupuncture is wild, it's so cool."
"I have not been able to walk this upright in a long time."
"Whatever you did, I need you to work that magic again."
"There is no pain – at all!"
"That was so helpful. I slept through the night, it was good. It was awesome, I did notice a difference."
"I'm trying to get rid of drugs, not add drugs."
"God knows acupuncture works."
"I'm just feeling like me and I love it!"
"I'm so happy just to be myself!"
"Every time I leave here, my energy feels right again."
"I feel like myself. I feel like the person I used to be."
"After acupuncture it feels like expansion."
"I'm just flipping out about how I feel after acupuncture."
"I can't believe this is happening. There was not a day I didn't go through without being aware that my back was hurting. Then I went through a whole weekend and I didn't even notice my back pain."
"I'm getting there, it's such a relief!"
"Wow! I feel like a different person!"
"Very recently I've been like, 'Things are getting better,' so – yay!""
"Whatever this does to my sleep is awesome."
"I don't know what acupuncture has done to my sleep, but it's wild!"
"It feels like a full-body exhale after acupuncture."
"I always feel so much better when I leave here – it's hard to believe it's just 30 minutes."
"It felt like you opened up something where I just felt more clear – I don't what that is, but it definitely had a positive effect, for sure."
"I felt like I had infinite energy, like I could be in the gym forever training."
"100% turnaround from when we started."
"I am feeling more care-free, which has been a nice change of pace."
"The nasal congestion is infinitely better!"
"I'm pushing [where my forehead pain usually is] there's nothing! There's never nothing! I can always find a spot."
"This is surreal that this is happening. It's amazing that something is actually working."
"I used to feel 'dehydrated' and now I feel refreshed and revived."
"I felt like water was flowing through me."
"I don't remember having a rest like that before."
"I stood up and it didn't hurt – yay!"
"I felt charged and very good after our visit."
"I love feeling better, it's the best."
"I go out the first thing in the morning with my dog and I breathe – it's wonderful!"
"I'm skeptical, but I've learned to be skeptical about the right things… I wouldn't keep doing acupuncture if I didn't think it had a definite effect."
"I'm humming like a finely-tuned Porsche."
"I feel like I've been able to let things go more. Little things don't bother me like they used to."
"I pass out from [injection] needles, but acupuncture needles are a different situation."
"I am so tickled that I can be outside and plant my flowers that I usually can't plant until June. That has been so tremendous. That, and my digestion which is very good. Between those two things I can get out of the house so much more. I can be outside and not barricade myself in due to allergens."
"Pure Relaxation."
"My allergies are doing wonderful – I am outside so much more – my vitamin D is building!"
"The nasal passage feels so much more free."
"I don't know what you did, but you changed my whole life."
"I'm going to take this cleansed energy into that three hour meeting!"
"Most of the time I don't even feel the insertion of the needles."
"Getting rid of the pain was amazing."
"It's really good to feel good."
"I feel more centered – I didn't even know I was out of alignment!"
"That's dramatically better!"
"You are very straight-forward, direct, and honest."
"It's so nice to not hurt."
"It's like mowing the lawn, you can tell immediately that [the acupuncture] helped."
"You saved my life. My ulcerative colitis and IBS disappeared and never came back."
"You got rid of my neck pain in two sessions; my chiropractor had me coming in for months."
"I have been sleeping like a baby."
"I wouldn't have been able to get through these last several months without you."
"You're a pain changer."
"Your [acupuncture] lasts."
"The pain is so much better now – it's like night and day."
"My sinuses are remarkably better."
"Oh my God, my neck is moving again!"
"I can't say enough good about what you do."
"When I leave the doctor I don't feel like anything has been fixed. The minute I leave here I know that something has happened."
"My hamstring has been so bad for 8 months, and [now] there is no pain."
"I had been to the physical therapist and chiropractor and nothing improved. After acupuncture I can walk upstairs with nothing hurting. It makes my work outs better and I feel like I can use my legs more equally."
"I can tell a huge difference in my workout with what I'm able to do. My trainer was [previously] having to modify so much."
"[I am able to breathe] 100% better."
"If you don't invest in your health with acupuncture, supplements, diet, and exercise, then you're going to pay for it later with all of your maladies that come along."
Will you be our next patient? We hope so!

---