---
---
At The Fountain Acupuncture and Herbal Medicine, our main goal is to get you results. Whether you are looking for relief from pain, to treat COVID long haul symptoms or another chronic health condition, or to optimize fertility, we want to help you heal with the time-tested medical art of acupuncture. Please click below to see our results.
---
Click For Acupuncture Video Testimonials
Click For Acupuncture Before/After Photos
---
TESTIMONIAL – Acupuncture for Shoulder Impingement / Frozen Shoulder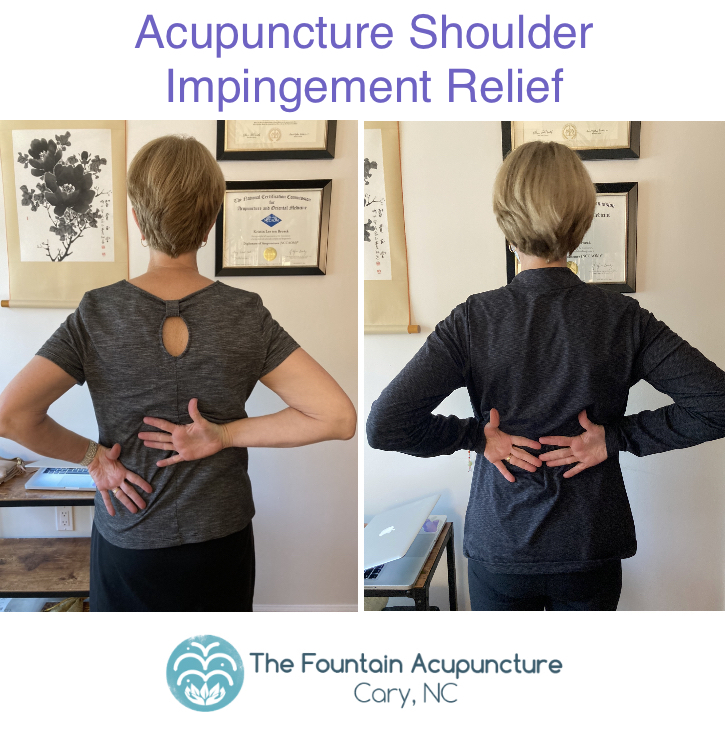 "I started acupuncture in July 2022 with a diagnosis of shoulder impingement. It was painful to do functional activities such as scratching my back, putting my phone in my back pocket, sleeping and reaching to wash my arm pit. There was never a moment, at rest or active, that I did not feel some level of pain; all the way to the point of wincing and holding back tears.
After traditional P.T. and consideration of return to the M.D., I went totally out of my conservative comfort zone, and tried acupuncture. I immediately felt comfortable with Kristin and had it in my mind that I was going to give this a fair shake. I began with 1 hour sessions 1x weekly of acupuncture and cupping. After the 4th session, I began to feel some slight improvement with my range of motion. Improvement after each session then began with small increments of pain relief and improved range. On my own I was doing epsom salt baths, heating pad, stretching and recommended oils.
In the late fall I began having times at rest that were pain free! I remember one session where I literally cried and hugged Kristin because I did a movement we had done every session, totally pain free. It gave me so much hope! Winter came and those darn coats became a challenge but gradually became easier to get on and off. Specific areas could easily be targeted in each session as being tender or tight and were expertly attended to by Kristin. Sessions were now 30 minutes, every other week and I was sustaining improved motion and less pain. In February 2023 I can now have a full day that is pain free. Range of motion is back to 85-90%. I'm dreaming some nights, reaching a level of sleep I haven't had even prior to my injury. I have no doubt I will be back to 100% thanks to Kristin's help!" – Patient