The Diaphragm
When was the last time you thought about your diaphragm? If you are a serious yogi, qi gong practitioner, or meditator, the answer will be recently. Ancient cultures that studied self-cultivation arts like yoga and qi gong paid great attention to the working of the diaphragm, and for good reason. No muscle singularly exerts more control over breathing than the diaphragm, and the Chinese noted several thousand years ago that the ability of the diaphragm to move efficiently exerted great influence on not only the body's ability to move it's breath, but it's energy and blood throughout. Proper breathing nourishes our well-being by making sure that blood and oxygen get to their intended cellular targets to keep us well-lubricated and pain-free.
Making sure your diaphragm is healthy with proper stretching, exercise, and, in some cases, acupuncture, can benefit your body in a vast multitude of ways.

Called Gé in Chinese medicine, the diaphragm is a muscle that attaches to the costal margin of the seventh through twelfth ribs, lumbar vertebraes L1-L3, the aorta, the pericardium, and the xiphoid process of the sternum. Broadly, it separates the chest from the abdomen. It is the principal muscle used in respiration, and aids in compressing the abdominal viscera. When you inhale, the diaphragm contracts to increase the volume of the thoracic cavity and creates a negative pressure gradient that pulls, or grasps, as said in Chinese medicine, air into the lungs. This air is pulled into the deepest crevices of the body by way of the alveoli of the lung, so that an individual element, oxygen, is able to be extracted from the air and utilized in the circulatory system. This is a very powerful action that goes largely unnoticed throughout the day as we breathe, but becomes instantly apparent if we are unable to perform this task.
Ancient cultivation practices like qi gong, tai ji, and yoga all paid deep attention to the different ways to activate the diaphragm to control the "belly breath" and "reverse breathing."

Practicing these different forms of breathing requires activating certain parts of the diaphragmatic and accessory muscles.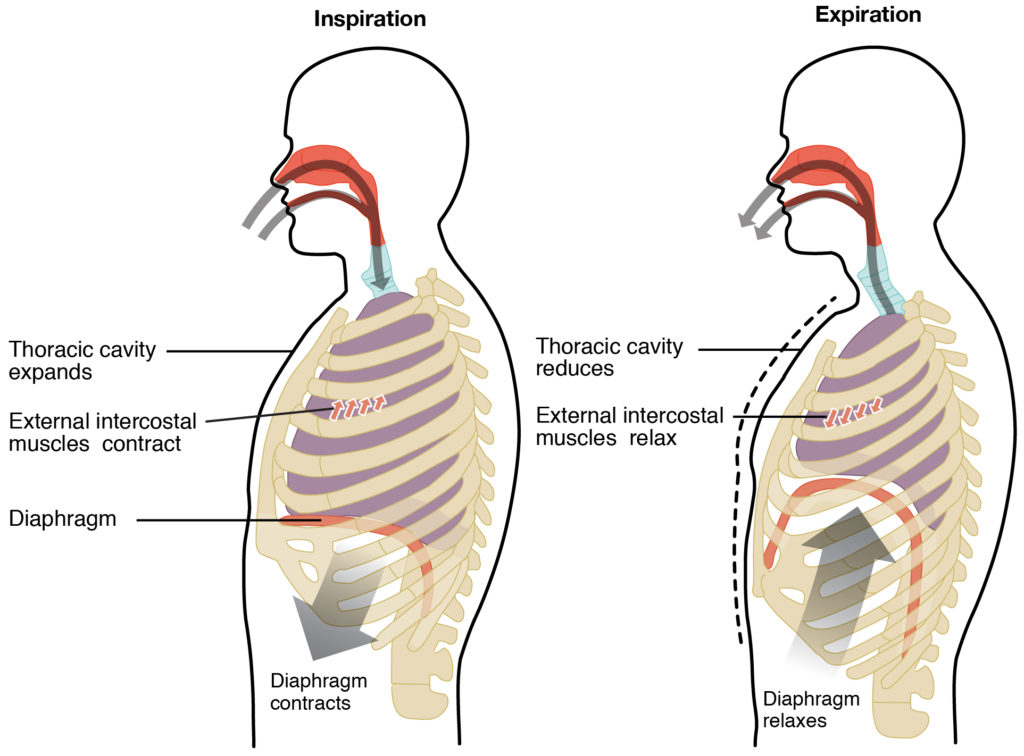 Find Your Diaphragm
Let's try the simple "belly breath."
Get into a comfortable position
Notice your breath. What parts of your body move while you breathe? Which parts expand, and at what point during the breath?
Now try breathing so that only your belly expands with your inhale; this is belly breathing, one of the breathing techniques that can be used in yoga, qi gong, and meditation!


Belly breathing is made possible by the stabilization of the costal attachments of the diaphragm by specific muscles (internal intercostals, the transversus thoracis, and others.) Directing your breath consciously helps to massage your internal organs, and expands and contracts some muscles and fascial attachments that might benefit from stretching and moving.

In Chinese medicine, the "master control" acupuncture point for the diaphragm, Gé Shù, is also referred to as one of the "Influential acupuncture points for blood." This may be, in part, because the vena cava, responsible for collecting the blood that has passed through the body to return it to the heart, is the only vessel that passes through the central tendon/aponeurosis of the diaphragm. Also, as noted before, the central tendon of the diaphragm connects to the pericardium through the pericardiacophrenic ligament.

In my Cary clinic, this acupuncture point, Gé Shù, is commonly indicated for our patients. Its diverse applications can include digestive symptoms (nausea, vomiting), respiratory and chest symptoms (asthma, cough, wheezing, stuffiness in chest), pain syndromes (abdominal pain, back pain, neck pain), and can be co-indicated in suboptimal function of the liver, gallbladder, and thyroid (gallstones, liver fibrosis, hepatitis, hypothyroidism, hyperthyroidism.) Acupuncture and Chinese medicine is commonly used to treat all of the aforementioned conditions. Click here for more conditions that are commonly treated with acupuncture.

Call 1-919-230-2456 now to schedule a free acupuncture consultation if you would like to start utilizing the millennia-old practice of Chinese medicine to optimize your health and restore the resources that your body has to heal. The Fountain Acupuncture is centrally located in Cary, NC, serving Cary, Raleigh, Durham, and the greater North Carolina research triangle with acupuncture, Chinese medicine, and Chinese herbal medicine.

In Health,
Kristin ten Broeck, MSOM, LAc